LED solutions for warehouse spaces
The main aim of industrial lighting is to provide the optimal conditions for workers.
LED lamps by LEDESON for indoor lighting of industrial workshops not only reduce the energy consumption but also increase productivity and safety. The increase in lighting of the working surface improves the visibility of objects by increasing their brightness, increases the rate of details distinguishing that affects the growth of labour productivity.
Serial LED lamps by LEDESON fully meet the requirements for industrial lighting:
have the high degree of reliability;
easy to install and maintain;
have a compact size and light weight;
provide the high level of illumination;
have an optimal spectral composition, large operating life;
energy-saving, high-impact, with electrical, explosion and fire safe.
Huge advantage of our LED lamps is their IP67 degree of moister and dust protection. It allows using them in food processing, steel, chemical industry. You need to mount the lamps once, and there is no necessity in maintaining, replacing, dangerous high-altitude works, and so on. It is enough to wash the LED lamp with water jet to remove the dust. You can do this even with running lamp.
One more advantage of LEDESON LED lamps is the opportunity to use them in explosion and fire hazard spaces without cumbersome protective translucent covers. Explosion-proof and protected against moister and dust LED lamps that are produced by our company (EхnRII6X protection level) are used in workshops, warehouses and other industrial sites with high demands for explosion.
We should not forget about such important stage of the lighting system organization as outdoor lighting of industrial enterprises. Convenience of movement across the enterprise territory, safety and comfort of workers depends on quality and appropriateness of lighting location.
Any industrial enterprise, shops and other facilities have warehouses. The comfort of operating conditions, performance of variety of operations depends on quality of the warehouse lighting. So the warehouse lighting should be performed professionally and at a high level. Our company can offer high-quality warehouse lighting, which will meet all the requirements and standards, and provide comfortable conditions for workers in the warehouse and optimum working conditions for them.
LED lamps LEDESON are successfully applied in various industries due to their characteristics:
low supply voltage and the lack of Mercury in LED lamps provides the ability to create a safe working environment;
high luminous efficiency, good colour rendering, variations in the temperature colour and brightness of LEDs help to create a comfortable environment for even the most complex visual work;
during using of the LEDESON LED lighting appears the possibility to create lighting systems with good uniformity of lighting or to set light accents, if it is needed;
LEDs have a long service life, which allows less maintenance of LED lighting;
LED lamps have resistance to various mechanical stresses;
LED lamps can operate with a wide temperature range, they can be used in all areas of production: from refrigeration units to the shops with increased ambient temperature;
LED lamps operate silently, it is comfortable for workers.
Lighting of industrial facilities is related with the number of features and difficulties. But LED lighting LEDESON find it more and more widely used.
LEDESON offers quality industrial lighting, which is provided by a competent selection of lighting equipment, its rational placement, in accordance with established standards.
That how workshop looks like at night with LED lamps.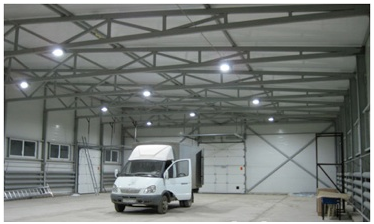 The same workshop with the natural lighting.