Solutions for Gas Station
At the gas station drivers would like to get not only fuel, but also an excellent service. So they choose those gas stations that provide maximum comfort: cafe, shop, toilets, car wash, etc.
Modern petrol station in each zone should be visible, noticeable, recognizable, safe and comfortable for clients and staff. Herewith gas station should be cost-effective. Energy efficiency should be provided without compromising for the lighting quality.
Outdoor lighting for Gas Station
Number of lighting equipment for outdoor lighting depends on the area of the gas station.
We offer LED lamps for gas stations, which can be mounted on any pillar, with the diameter of tube up to 55 mm.
Lamps have a wide range of operating temperature (-60 ... + 45 ° C) and supply voltage (170-264 V), and are made in UHL 1 climatic design.
Lamps have powerful LEDs of world's leading manufacturers - Nichia Corporation of Japan and the German company OSRAM.

The amazing results are achieved due to installation of LED lighting:
lighting is provided in accordance with the standards;
steady lighting without glare or drivers or personnel of gas stations;
there are no shadows on the main area because of the good vertical lighting.
Lighting for vehicles refuelling area
As a rule under the canopy where the dispensers are situated the recessed lamps are used. They should be strong and safe.
for operational areas A we offer to use the Gas station explosion-proof versions of lamps of EXnRIIT6X type;
our lamps are divided into electrically independent parts and have independent system of temperature control;
housing is made of anodized aluminium profile with a large area of the radiator;
protective glass is made of stabilized optical polycarbonate;
materials that have resistance to corrosion are used during manufacturing of such lamps;
lamp is mounted into the canopy of gas station with using of decorative frames.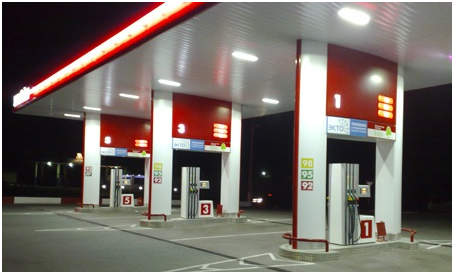 Lighting for car wash

Modern gas stations offer services of different spectrum, one of them is car washing.
Washing spaces require special lighting, where lamps that suitable for harsh conditions are used.
Lamps are working not only in wet conditions, but also with danger of water and active detergents falling. That's why safety requirements are so important.
Therefore, we worked out the lamp for car washing with a corrosion-resistant housing which has the tight connection of diffuser and body (we use special seals). Lamp has IP 67 degree of protection (protection against falling of water jets at different angles).
Wiring at the car washes is also performed with all requirements for safety and reliability.
Lamps are located on the ceiling or on the walls. It depends on the size of the space. Lamp should quantitatively (lighting), and qualitatively (color rendering) illuminate the car, because it determines the level of service quality and, therefore, the desire of client to visit you again.
With setting of the LED lamps, you will save the electricity significantly.
Accent lighting

We offer spotlights for local illumination of some elements of the design of gas stations (SAFs, logos, banners, and so on.).
LED Spotlights have a IP 67 degree of protection, insensitive to vibration, shocks, vandalism, retain the power of light in a wide range of supply voltages.
There are modifications that available for networks of 220 V and low voltage safe versions for voltages of 24 or 12 V.


Lighting for offices and salesrooms

LED panels are designed for installation on the ceiling of office spaces, as well as shopping rooms.
One of the advantages of this series is the wide opening angle of the light flux - 180 degrees angle provides bright lighting flows.
Usage of LED panels can reduce the cost of maintaining of commercial facilities at the gas station in 2-3 times.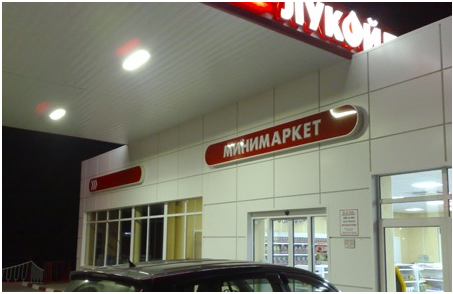 Lighting for technical areas, corridors, utility rooms
Budget LED lamps for housing are designed for technical facilities that do not require the bright lighting.
Housing of the lamp is made of impact-resistant optical polycarbonate that provides the high resistance to shock loads.
With luminous flux of 800 lumens (the incandescent lamp of 100 watts provides similar luminous flux), housing lamp consumes only 8 watts!