Housing 08 LV LED lamp
Lighting characteristics
710

Luminous flux with clear glass, lm
D

Type of intensity curve
4500

Color temperature, К
80

Color rendering Index, Ra
84

Efficiency of the lamp, lm/W
Nichia (Japan)

Manufacturer of the LEDs
P

Class of lighting distribution

120

Angle of emitting 2O 0,5, degree
Electrical specifications
DC 10,5-40

Power consumption in nominal mode, W
yes

Connection of sensor of the relay type
8,5

Power consumption in nominal mode, W
yes

The function of protection against overheating
II

Class of protection against electric shock

A

Energy efficiency class
up to 2,5

The maximum

cross-section of

the network cable

, ммb
ultralow

Emission of harmonic components to the network/ether

General characteristics
from -20 to +45

Range of working temperatures, С`
40

The degree of protection against external influences, IP
UHL 3

Type of climatic version
optical polycarbonate

Housing material
36

Warranty period, months
Weight
0,28

The finished product, kg
Sizes
200х100х40

Without the package, mm
0,002

The volume in the package with mounting kits, mc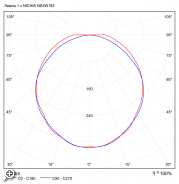 Low-voltage lamps of Housing series are designed for
installation in doorways, hallways and other areas of residential and non-residential buildings.
Lamps of Housing series are designed by LedFocus
with taking into account therealities of the live:
expensive electricity, widespread vandalism, unstable power grid, and operation at a very low temperatures.
Housing lamps have such operational characteristics: wide range of supplying voltages (160 ~ 264 V) and operational temperatures (20 ~ +40 С). The housing of the lamp is made of
optical polycarbonate, that provides the resistance against shocks.
Also the lamps have protection against overheating and
overvoltage of the supplying network up to 800 V
. Housing lamps are made on the basis of the NICHIA (Japan) LEDs.
The main features of the lamps:
Without inertia.

Instant start at any temperature.

The total absence of flicker

.

Energy savings and the absence of operational costs.

High mechanical strength and vibration resistance

.
Long service life.

Vandal-resistant.

Good quality / price ratio.

Quiet operation.