Office 12 LED lamps for indoor lighting
Office 12 LED lamps for indoor lighting
Lighting characteristics
1400

Luminous flux with clear glass, lm
D

Type of intensity curve
980
Luminous flux with frosted glass, lm
4000-5000
Color temperature, К
>80

Color rendering Index, Ra
110

Efficiency of the lamp, lm/W
Nichia (Japan)

Manufacturer of the LEDs
P

Class of lighting distribution
120

Angle of emitting 2O 0,5, degree
Electrical specifications
170-264
Voltage of supplying network, V
0,07
Current consumption, not more than, A
50;60
Frequency of supplying network, Hz
800
The function of protection against voltage surges up to, V
15
Power consumption in nominal mode, W
yes
The connection of relay sensor
>0,95

Power factor
I
Class of protection against electric shock
A

Energy efficiency class
ultralow

Emission of harmonic components to the network/ether
up to 2,5
Maximum cross-section of the cable, ммb
General characteristics
from -20 to +45
Range of working temperatures, С`
40

The degree of protection against external influences, IP
UHL 3

Type of climatic version
optical polycarbonate

Housing material
optical polycarbonate
Protection glass material
36
Warranty period, months
Weight
0,7

With fasteners, kg
Sizes


180х140х55

Without package with fasteners, mm

0,002

Volume in package with fasteners, mc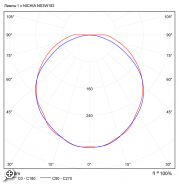 Office 12 LED is the ceiling lamp for commercial buildings.
Lamps of Office series are used in such places as: walls, ceilings, driveways, office, education, retail, industrial, warehouse and other premises protected from moisture.
Lamps are very usefull in places where energy savings, long life and high reliability are required. The main features of Office LED lamps:
high level of lighting output;
quiet during operation;
no stroboscopic effect and vibration;
stability of the intensity over the whole range of supply voltages;
resistance to vibration and vandalism;
wide range of working temperatures ans supplying voltages;
instant start, even at deep subzero temperatures;
service life is more than 20 years.