City 36 LED lamp
Lighting characteristics
3800

Luminous flux with clear glass, lm
D

Type of intensity curve
2660

Luminous flux with frosted glass, lm
5000

Color temperature, К
>70

Color rendering Index, Ra
100

Efficiency of the lamp, lm/W
Nichia (Japan)

Manufacturer of the LEDs
P

Class of lighting distribution
120

Angle of emitting 2O 0,5, degree
Electrical specifications
38

Power consumption in nominal mode, W
>0,95

Power factor
170-264

Voltage of supplying network, V
50;60

Frequency of supplying network, Hz
0,17

Current consumption, not more than, A
800

The function of protection against voltage surges up to, V
yes

The function of protection against overheating
I

Class of protection against electric shock
A

Energy efficiency class
ultralow

Emission of harmonic components to the network/ether
5-6,5

The diameter of the power cable, mm
General characteristics
from -60 to +45

Range of working temperatures, С`
67

The degree of protection against external influences, IP
UHL 1

Type of climatic version
anodized aluminum

Housing material
optical polycarbonate

Material of protection glass
36

Warranty period, months
Weight
4,7

With console mount, kg
3,7

With a ceiling mount, kg
4,6

With mounting on bracket, kg
4,3

With mounting on cable, kg
Sizes
420х174х152

Without the package, with console mount, mm
0,015

The volume in the package with the console mount, mc
420х205х87

Without the package, with ceiling mount, mm
0,009

The volume in the package, with a ceiling mount, mc
468х214х98

Without the package, with mounting on bracket, mm
0,015

The volume in the package with mounting on bracket, mc
220х205х87

Without the package, mounting on cable, mm
0,006

The volume in the package, with mounting on cable, mc
Options
with console mount

Day and night sensor connection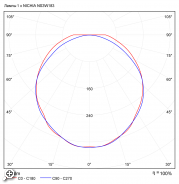 Lamp City 36 is designed for lighting of highways, streets, roads, bridges, tunnels, gas stations, squares, courtyards, warehouses, industrial facilities, railway platforms, billboards, signage, general lighting of residential and office buildings, parking lots and surrounding areas, in places where energy saving and high reliability is necessary. Power consumption from 220 V AC is not more then 38 W. It is an alternative replacement of the luminaries with mercury lamps DRL 70, DRL 125.
Lamp City 36 is made with LEDs of Japan company NICHIA NF2L757DR-E. The reliability of the lamp is provided with deviding into electrically independent parts and independent temperature control. The housing is made of anodized aluminum profile, which is also the radiator. Safety glass is made of impact-resistant optical polycarbonate. The fixture is mounted on any support, with a tube diameter up to 65 mm. The lamp can be equipped with fastening to either ceiling or wall.
It is recommended to use in places with high demands on reliability, with high level of vibration, humidity, where the energy saving is necessary. There is no stroboscopic effect, the light intensity is stable over the entire range of supply voltages. Up time is less than 1 sec. Lamps can be equipped with light sensors for automatic on / off when sunset / sunrise. The lamp does not require additional maintenance over the service life of the (more than 20 years), only the periodic washing with a jet of water. Warranty period is 36 months
The main features of City lamps:
high level of lighting output;
quiet during operation;
no stroboscopic effect and vibration;
stability of the intensity over the whole range of supply voltages;
resistance to vibration and vandalism;
wide range of working temperatures ans supplying voltages;
instant start, even at deep subzero temperatures;
service life is more than 20 years.