City 65 LED lamps
Lighting characteristics
7500

Luminous flux with clear glass, lm
D

Type of intensity curve
5000

Color temperature, К
70

Color rendering Index, Ra
115

Efficiency of the lamp, lm/W
Nichia (Japan)

Manufacturer of the LEDs
P

Class of lighting distribution
120

Angle of emitting 2O 0,5, degree
Electrical specifications
65

Power consumption in nominal mode, W
>0,95

Power factor
170-264

Voltage of supplying network, V
50;60

Frequency of supplying network, Hz
0,29

Current consumption, not more than, A
800

The function of protection against voltage surges up to, V
yes

The function of protection against overheating
I

Class of protection against electric shock
A

Energy efficiency class
ultralow

Emission of harmonic components to the network/ether
5-6,5

The diameter of the power cable, mm
General characteristics
from -60 to +45

Range of working temperatures, С`
67

The degree of protection against external influences, IP
UHL 1

Type of climatic version
anodized aluminum

Housing material
optical polycarbonate

Material of protection glass
36

Warranty period, months
Weight
4,7

With console mount, kg
3,7

With a ceiling mount, kg
4,6

With mounting on bracket, kg
4,3

With mounting on cable, kg
Sizes
420х174х152

Without the package, with console mount, mm
420х205х87

Without the package, with ceiling mount, mm
468х214х98

Without the package, with mounting on bracket, mm
420х205х87

Without the package, with mounting on cable, mm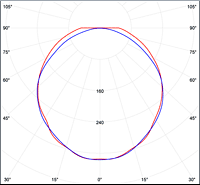 LED City 65 lamp are designed for use in factories, warehouses, streets, roads and bridges, and everywhere where high reliability of light source is important. LedFocus provides this durable model with vandal-resistant and ultra-low emissions of radio interference.
The model is designed to work at low temperatures, high humidity and sudden change of weather. However, they are environmentally friendly and quiet at switching-on. The product has also vibration resistance.
LED City 65 lamp has no flicker and stability of intensity. The inclusion model is instantaneous. High luminous efficiency helps to save energy.