The railway is one of the most energy-intensive industries, with a significant potential for energy savings. Railway complex have a special strategic importance for the country. It is the link of a single economic system which ensures the stable operation of industrial enterprises, the timely supply of essential goods to the most remote corners of the country and is the most affordable transport for millions of citizens.
All developed countries now have the necessity to solve the problem of growing shortage of energy resources, environmental pollution, and to optimize the operation of this mode of transport.
The main direction in solving of these problems is to move towards energy efficient and environmentally friendly lighting systems.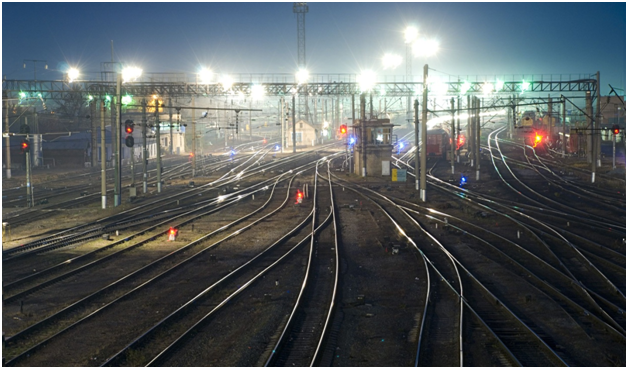 Areas of LED lighting application on rail:
LED lighting for platforms;
LED lighting for railway tracks;
LED lighting for forecourt;
exterior and facade LED stations lighting;
Internal LED lighting for stations;
LED lighting for passenger and commuter trains;
LED lighting for office and technical facilities.



Advantages of LED lighting on the railway:
Long service life (not less than 50 000 hours);
Economy of power consumption. Reduced by 70%;
There is no need in LEDs replacement and service of the lamp during the entire service life;
Increase of electro - and fire safety of buildings and facilities by switching to low (24) voltage of the secondary power supply in hazardous locations;
High mechanical strength:

construction of the lamp consists of a cast monolithic body made of aluminium alloy (protection degree is IP67),
no filament gives a high vibration resistance,
polycarbonate glass can withstand the large impact loads;

Built-in voltage regulator allows using of voltage from 115 to 290 V without external signs of voltage fluctuations;
Triple thermal stabilization of emitting LEDs;
High contrast ratio that provides better clarity of illuminated objects;
Instant lighting with the supply voltage and stable operation at a temperatures from -63 to + 40 ° C;
Serial product is certified in accordance with EC;
We use the LEDs of NICHIA and OSRAM companies (the leading LEDs producers);
We solve the problem of environmental pollution with mercury compounds and heavy metals that are contained in the traditional light sources;
We give 3-years guarantee for all our products.
Today we are ready to offer advanced, reliable, and cost-effective solutions to equip the railway station with LED lights. These solutions improve lighting quality, and provide quick payback (due to lack of electricity and operating costs).