Интернет-магазин работает с ограничениями!
В настоящий момент заказы не обрабатываются.
Bio 120 greenhouse lamp
Lighting characteristics
2800

Luminous flux with clear glass, red, lm
D

Type of intensity curve
1400

Luminous flux with clear glass, blue, lm
1,8x1,2

Area of brightening, мb at the height of the suspension of 0,5 m
Nichia (Japan)

Manufacturer of the LEDs
P

Class of lighting distribution
120

Angle of emitting 2O 0,5, degree
Electrical specifications
100

Power consumption in nominal mode, W
>0,95

Power factor
170-264

Voltage of supplying network, V
50;60

Frequency of supplying network, Hz
0,32

Current consumption, not more than, A
800

The function of protection against voltage surges up to, V
yes

The function of protection against overheating
I

Class of protection against electric shock
A

Energy efficiency class
ultralow

Emission of harmonic components to the network/ether
5-6,5

The maximum diameter of the power cable, mm
General characteristics
from -60 to +45

Range of working temperatures, С`
67

The degree of protection against external influences, IP
UHL 1

Type of climatic version
anodized aluminum

Housing material

optical polycarbonate

Protection glass material
36

Warranty period, months
Weight
7,0

With a ceiling mount, kg
Sizes
820х174х68

Without package, with a ceiling mount, mm
0,016

Volume in package, with a ceiling mount, mc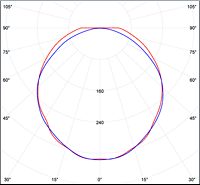 LedFocus provides the new series of products: LED lamps for greenhouse of Bio series. They are designed for mounting in the greenhouses. the main task of these lamps is to provide the full passage of photosynthesis in growing plants and during growth of biomass.
The spectra of used LEDs