City 36 LV low-voltage LED lamp
Интернет-магазин работает с ограничениями!
В настоящий момент заказы не обрабатываются.
City 36 LV low-voltage LED lamp
Lighting characteristics
3600

Luminous flux with clear glass, lm
2520

Luminous flux with frosted glass, lm
D

Type of intensity curve
4500-5500

Color temperature, К
>80

Color rendering Index, Ra
100

Efficiency of the lamp, lm/W



Nichia (Japan)

Manufacturer of the LEDs
P

Class of lighting distribution
120

Angle of emitting 2O 0,5, degree
Electrical specifications
36

Power consumption in nominal mode, W
DC 20-32

Voltage of supplying network, V



yes

The function of protection against overheating



I

Class of protection against electric shock
A

Energy efficiency class
ultralow

Emission of harmonic components to the network/ether
5-6,5

The diameter of the power cable, mm
General characteristics
from -60 to +45

Range of working temperatures, С`
67

The degree of protection against external influences, IP
UHL 1

Type of climatic version
anodized aluminum

Housing material
optical polycarbonate

Material of protection glass
36

Warranty period, months
Weight
4,7

With console mount, kg
3,7

With a ceiling mount, kg
4,6

With mounting on bracket, kg
4,3

With mounting on cable, kg
Sizes
420х174х152

Without the package, with console mount, mm
0,015
Volume in package with console mount, mc
420х205х87
Without the package, with ceiling mount, mm
0,009
Volume in package with ceiling mount, mc
468х214х98
Without the package, with mounting on bracket, mm
0,015
Volume in package with mounting on bracket, mc
420х205х87
Without the package, mounting on cable, mm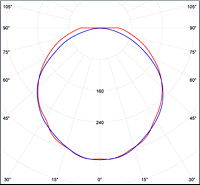 City 36 LV lamp is designed for lighting of streets, roads, bridges, tunnels, gas stations, squares, courtyards, warehouses, industrial plants, lighting, railway platforms etc. LED lamp works with battery or systems that use the solar panels, turbines or 24 V DC networks. Power consumption is 36 W.
Lamps are made with LEDs of Japan company NICHIA of the latest generation with the light output of 120 lm / W. Housing is made of aluminum profile, glass is made of shockproof polycarbonate. The lamp is mounted on any posts, with the diameter of pipe of 55 mm. Also the lamp can be equipped with ceiling or wall mount. All these qualities allow to obtain the highest reliability and operating characteristics of the City 36 LV lamp.