Интернет-магазин работает с ограничениями!
В настоящий момент заказы не обрабатываются.
Expert 100 LED lamp
Lighting characteristics
13300

Luminous flux with with clear glass, lm
Ш

Type of intensity curve
5000-6000

Color temperature, К
75

Color rendering Index, Ra
133

Efficiency of the lamp, lm/W
П

Class of lighting distribution
135

Angle of emitting 2O 0,5, degree
Electrical specifications
100

Power consumption in nominal mode, W
>0,98

Power factor
150-264

Voltage of supplying network, V
50;60

Frequency of supplying network, Hz
0,65

Current consumption, not more than, A
800

The function of protection against voltage surges up to, V
yes

The function of protection against overheating
A

Energy efficiency class
I

Class of protection against electric shock
matches

Emission of harmonic components to the network/ether
7-10

The diameter of the power cable, mm
General characteristics
from -50 to +45

Range of working temperatures, С`
67

The degree of protection against external influences, IP
UHL 1

Type of climatic version
anodized aluminum, stainless steel

Housing material
LIQUOS

Optical system
36

Warranty period, months
Weight
5,3

With console mount, kg
4,9

With bracket mounting , kg
Sizes
470х259х118

Without the package, with console mount, mm
562х277х168

Without the package, with bracket mount, mm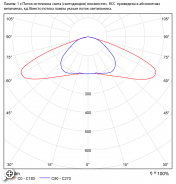 Expert 100 LED lamps are used the new technology of the optics, that allows significant increasing of the efficiency of the lighting device. They have the new housing that provides the necessary level of heat exchange between the device and the environment. Device has the high level of reliability and economy.
The demands of specialist were taken into account during design. That is why the lamps combine the attractive appearance with functionality. The Expert 100 LED lamps set the new standards in their class. The best results of the luminous efficiency were achieved: the 130 lm W plank was overcome. Today the LedFocus lighting devices is the real alternative for Sodium-vapor lamp and Metal halide lamps.