Highway 300 highway LED lamp
Интернет-магазин работает с ограничениями!
В настоящий момент заказы не обрабатываются.
Highway 300 highway LED lamp
Lighting characteristics
27000

Luminous flux with with clear glass, lm
Ш

Type of intensity curve
4500-5000

Color temperature, К
>80

Color rendering Index, Ra
90

Efficiency of the lamp, lm/W
Nichia (Japan)

Manufacturer of the LEDs
П

Class of lighting distribution
140

Angle of emitting 2O 0,5, degree
Electrical specifications
300

Power consumption in nominal mode, W
>0,95

Power factor
170-264

Voltage of supplying network, V
50;60

Frequency of supplying network, Hz
1,3

Current consumption, not more than, A
800

The function of protection against voltage surges up to, V
yes

The function of protection against overheating
A

Energy efficiency class
I

Class of protection against electric shock
ultralow

Emission of harmonic components to the network/ether
5-6,5

The diameter of the power cable, mm
General characteristics
from -60 to +45

Range of working temperatures, С`
67

The degree of protection against external influences, IP
UHL 1

Type of climatic version
anodized aluminum

Housing material
optical polycarbonate

Material of protection glass
36

Warranty period, months
Weight
15,2

With console mount, kg
14,5

With a ceiling mount, kg
15,1

With mounting on cable, kg
Sizes
820х348х142

Without the package, with console mount, mm
0,044

The volume in the package with the console mount, mc
820х380х87

Unpacked, with ceiling mount, mm
0,044

The volume in the package, with a ceiling mount, mc
820х380х87

Without the package, with fastening on the cable, mm
0,044

The volume in the package, with the mounting on the cable, mc
Options
with the console mount

Connection of the day and night sensor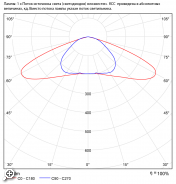 LEDs manufacturing by Nichia exclusively for LedFocus.
LedFocus begins to use the Nichia Co. LEDs with primary optics in the lamps. Highway series with curve of intensity of Ш type for the roads of A category has successfully passed the tests and and received the conclusion of many laboratories in Eastern Europe. Of course,this technical innovation allows to continue the application of lamps with the special diagram on the bridges, roads and tunnels. The updated concept of road lighting considerably increases the level of safety and comfort on the road, and the high reliability of the resource will allow to hold this level for a long time.
New lamps have the stable luminous flux at higher temperatures, and this is a determining factor in the life of the lighting based on LED chips. New generation LEDs also have an optimal color temperature of 4700 К and the best efficiency on the market in a ratio of lumen / watt. It is an alternative replacement of the DNaT 250 lamps with mercury.